6 ways to enhance your Google account security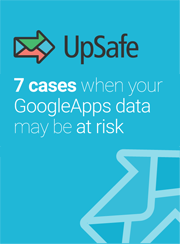 Why should we care about our data security when we keep it in Google Drive?
Google servers are a much safer place to keep your data than your local server or PC. Apart from safety Google also offers such awesome things as collaboration and single-sign-on.
But don't get too much excited as these cloud conveniences bring forward the biggest security breaches to your data that you have never met before.
Learn 3 biggest threats to your Google Account security and 6 ways to protect against them.
In this whitepaper you will find the answers to the following questions:
How strong should be your password?
How can the Google trash bin cheat on you?
Single-sign-on to the third-party applications: what can so dangerous about them?
Someone logged into our account from the unknown device. How can you monitor this suspicious activity?
For how long is the data kept in the Google trash bin?
How to make sure that you will never lose your cloud data?